Hello people!! everyone knows about the statuary warning " Smoking Is Injurious To Health" but our today's story reveals all about the celebs who are heavily addicted to smoking and drinking and even drugs.
We have a list of famous Bollywood actresses who are addicted to smoking and have been caught on camera many times while smoking.
Let's have a look at them:
1. Kangana Ranaut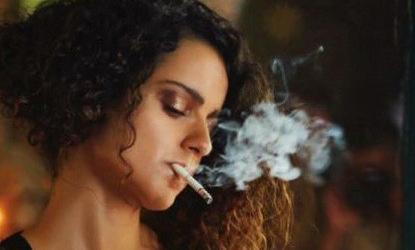 Kangana , who is known for her bold and upfront attitude , is a smoking addict in real life . In her movies like 'Gangster', 'Woh Lamhe' and 'Fashion' , Kangana played the character of a smoker too.
2. Sushmita Sen
Actress Sushmita Sen, who had won the title of Miss Universe in the past , is a chain smoker and is addicted to alcohol . She has been captured on camera many times while smoking and drinking.
3. Manisha Koirala
The gorgeous actress Manisha Koirala has made a huge fan following in the past with her awesome performance and looks , unfortunately, was diagnosed with cancer due to her drinking and smoking habits. She got addicted to smoking and drinking after she faced trouble in her married life.
4. Tanuja
Mom of Kajol , actress Tanuja is asserted to be the chainsmoker and she is seen smoking publicly many a times.
5. Rani Mukherjee
The popular actress Rani Mukherjee , who entertained us with her versatile role in a number of movies, is a smoker in real life.She even asserted that smoking helps her in digestion.
6. Konkona Sen Sharma
The Bengali beauty Konkana ,is one of the versatile actress . She has played many heart touching characters in the movies like : 'Wake Up Sid' and 'Lipstick Under My Burkha'. She is addicted to smoking and doesn't feel shy to smoke during the shoots.
7. Tanisha Mukherjee
Just like her mother Tanuja, Tanisha Mukherjee too is addicted to smoking. She was seen holding a packet of cigarette in a TV reality show, Bigg Boss.
8. Kim Sharma
Kim just vanished from the Bollywood industry long time back . She is also a smoker. She has been seen smoking and drinking in many parties and events.
9. Veena Malik
The controversial Pakistani actress and model, who has worked in few Bollywood movies, is addicted to smoking.She was seen in reality show Bigg Boss too.
10. Parveen Babi
The bold and sensuous actress Parveen Babi was a hit actress of her time . She died because of her addiction to smoking, drinking and drugs. Appaerntly, she went to rehab to get rid of her addiction.
So what do you guys think about this ? Do let us know in the comment section below.