The controversial queen Rakhi Sawant , who is always in talks or we can say that , she tends to be the talk of the town . She is always updated with her social accounts and guess what she is one of the happening in netizens because everyone is curious watching her unusual stuffs.
When Rakhi Sawant talks , it's her often statement that one can have a laugh about .
Let's see some of the liners Rakhi has talked about:
#1 The Cleavage moments
Rakhi has not left her fans disappointed when she opened up on the subject of her cleavage. She said, "I have spent so much money on my cleavage… Toh dikhaungi na yaar… Khaa maa ki kasam tujhe nahi dekhna."
#2 Rakhi with Sallu Bhai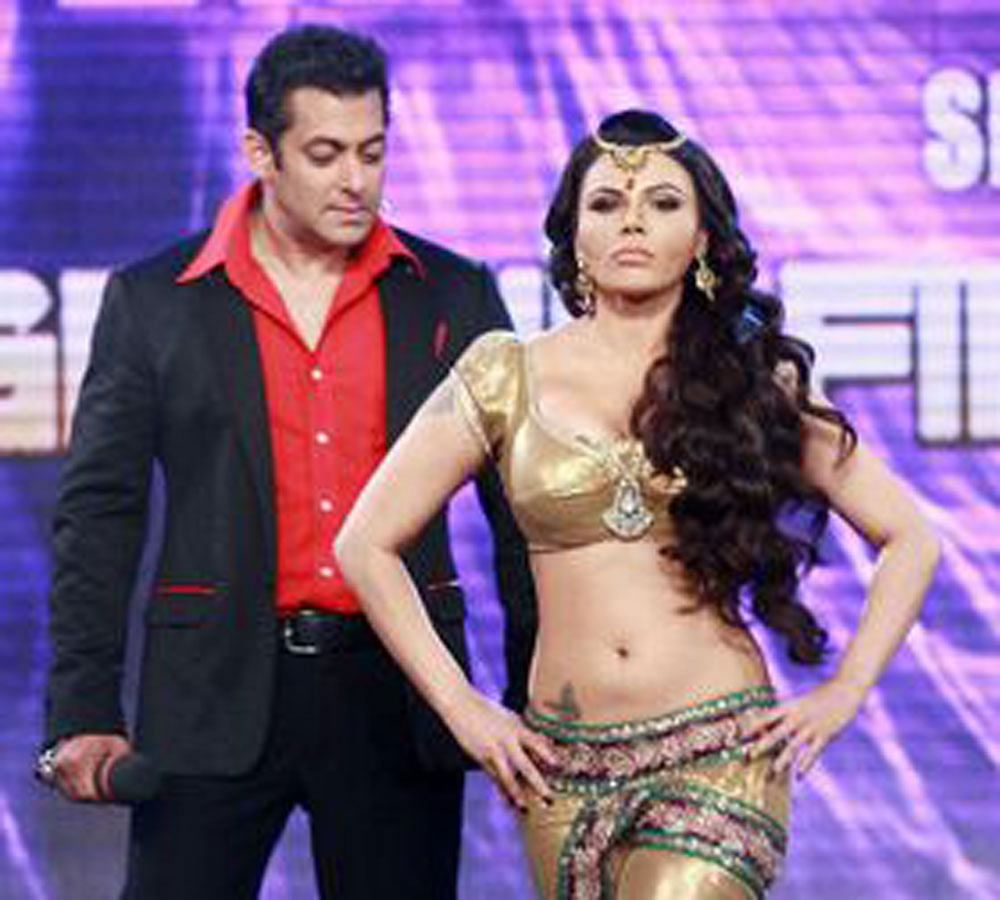 After Salman Khan's revelation of him being a virgin on 'Koffee With Karan', Rakhi Sawant mocked his statement and said, "I loved Salman's episode and even I am virgin." She further added, "I was born and brought up in a middle-class family, where the rules were very strict. My dad, who was a policeman, always told me, do what you want to do, but only after marriage. When I get married and have a partner, I will do it."

#3 The beauty with her prince
Rakhi Sawant created a buzz on social media by posting her wedding invitation on her Instagram page in which she declared she is marrying Deepak Kalal.
#4 Twinning in blue
She was asked if Salman supporting Rakhi's rival in election will affect her vote bank. To this, Rakhi said, "I don't understand why Salman Khan is speaking in favour of Gurudas Kamat. Salman has never gone to a slum. Salman should do 'dadagiri' only in films. If I want, I can call (for my support) Amitabh Bachchanji, Shah Rukh Khan and Hrithik Roshan."
#5 Rakhi Sawant Vs Karina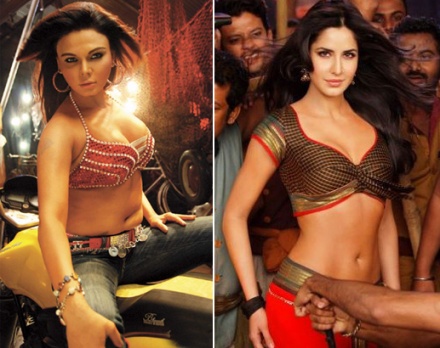 In an interview, Rakhi claimed that the new age actresses are copying her dance steps. Rakhi has danced to a number of item songs and was once called as the 'item queen' of Bollywood. Talking about Katrina Kaif's item number 'Chikni Chameli' in Agneepath, she said, "I think 'Chikni Chameli' is a good song. Katrina has danced very well but it's not something new. I have already done all this before. You can watch all my songs, I have already done that.
#6 Rakhi's Swag
She had once claimed that Aamir Khan's 'Satyamev Jayate' was inspired from her reality show 'Rakhi Ka Insaaf'. On being asked if she liked Aamir's show, she said, "I have nothing against Aamir. He is a great guy and I am indebted to him for life. He stood up for me at a time when there was nothing going good for me. In fact, he should be made PM of the country. My only issue is that if Aamir Khan decides to do a show like this, it is termed social work, but if Rakhi Sawant anchors a similar show, it is termed as business and a means to garner TRPs."
#7 Rakhi and Style
Karan Johar was in for a surprise when Rakhi Sawant said the unthinkable on his chat show 'Koffee With Karan'. While talking about cosmetic surgeries and enhancements, Rakhi confessed to getting a boob-job done. She said, "Jo Bhagwan nahi deta, woh doctor deta hai!" Though it left Karan Johar in splits, we know it was quite a bold statement.

# 8 Rakhi Vs Sunny Leone
The outspoken Rakhi Sawant grabbed headlines yet again for her bold statements and this time her target was Sunny Leone. Rakhi blamed Sunny and said that she was the reason for Rakhi wearing skimpy clothes. She further stated that Sunny Leone should go away from India. Rakhi Sawant said "You, Sunny Leone, get lost from my India…get lost from my film industry…" She further added that, "Main Rakhi Sawant aayi hu Leela ko geela karne," referring to Sunny Leone's film, 'Ek Paheli Leela'.
# 9 Rakhi's statement on DirectorMahesh Bhatt and Sunny Leone
When Rakhi came to know of Sunny Leone being signed for Mahesh Bhatt's 'Jism 2', she commented, "Mahesh Bhatt is signing Sunny Leone for 'Jism 2' only for her nudity. After all, it makes things easier for the filmmaker. In any case, he makes his heroines shed clothes, so it will make things easy for him because Sunny has already shed her clothes long back! Mahesh Bhatt ka kaam aasaan ho gaya!"
# 10 Sunny's comment on Vidya Balan
The Controversy Queen Rakhi Sawant had also been offered the Bengali remake of 'The Dirty Picture'. Rakhi said in an interview that, "The film is based on the life of an item girl and it is only befitting that I take on the role as I am the original item girl of Bollywood."
#11 Rakhi Sawant's statement on Baba Ramdev
Her statement against Baba Ramdev surprised everyone. Talking about Baba Ramdev, Rakhi said, "Mujhe nahin lagta Soniaji ke saath meri daal galegi. So I wouldn't mind marrying Swami Ramdev. He has loads of money and drives expensive cars. If this wedding happens, you all will get to see a glamorous sadhvi. Wouldn't that be interesting?" She further went on to add, "I find him hot. He is sexy. Haven't you ever seen his flat tummy? Bas ek baar shaadi ki mala unpe daal doon, unki aankh fadakna bhi band ho jayegi."
Rakhi Sawant is one and only who can bring a fan following by her unusual statements .