Trolling celebs has become the new online fad. When you're a celebrity, there's a good chance that at some point you'll be a target for keyboard warriors. Everything they do or say becomes a source of troll in no time.
Below are some of the most trolled celeb pictures:
1- When Priyanka Chopra Jonas wore a "revealing" gown for the 2020 Grammy Awards.
Priyanka Chopra is no new to criticism. For the 2020 Grammy Awards, she wore a stunning white gown that had a rather long neckline, all the way open to her navel, which she adorned with a diamond stud. However, the revealing outfit of the actress didn't go well with small-minded people over social media and started to troll the actress heavily with disgusting comments.
2- When Priyanka Chopra Jonas sat "indecently" while meeting PM Modi.
The actress was also trolled for dressing inappropriately while meeting with PM Narendra Modi in Berlin. She was called "unsanskaari" for showing off her legs in front of the PM.
3- When Taapsee Pannu wore a bikini.
Back in 2017, the actress shared a picture of herself in a gorgeous floral sea blue bikini on the sets of Judwaa 2. However, the reaction to the post was not as charming. She was trolled heavily for uploading 'obscene' pictures.
4- When Aishwarya Rai Bachchan kissed her daughter on the lips.
Everyone knows that Aishwarya takes her daughter everywhere along with her. Once when she shared a picture of her kissing Aradhya on lips, trolls accused her of violating Indian culture and behaving in a manner unsuitable to a mother. Apparently, many in the virtual world feel that kissing your daughter on the lips is not a decent way of expressing maternal love.
5- When Twinkle Khanna 'apparently' sat on books for a shoot.
Sometimes I get to do this as well- like the Madonna song 'Strike a pose -Vogue, Vogue Vogue!' @VOGUEIndia pic.twitter.com/bXDTY01hnQ

— Twinkle Khanna (@mrsfunnybones) October 24, 2017
A few years ago, Twinkle Khanna posted a picture of herself in which she was seen sitting on a pile of books with one of her feet resting on a stool, which some people thought was another pile of books. She was trolled for putting her legs on books. Later, the actress clarified that she had her foot on a stool.
6- When Mithali Raj showed her 'sweaty armpits' to the world.
What a momentous day today was, standing with these special women!!@MabenMaben @AlNooshin @vedakmurthy08 pic.twitter.com/EsNwRN2G7N

— Mithali Raj (@M_Raj03) August 20, 2017
Indian cricketer Mithali Raj shared a picture of hers on social media with some of her fellow cricketers. But some people started trolling her for having sweaty armpits.
7- When R. Madhavan had a cross sign in his house.
On the account of Independence Day, the actor had shared a picture of himself with his son and father wearing traditional attire. But a troll questioned why Madhavan had a cross in his mandir. To which, Madhavan gave a befitting reply by saying that he respects all religions.
8- When Anushka Sharma posed for a picture with the Indian cricket team.
#TeamIndia members at the High Commission of India in London. pic.twitter.com/tUhaGkSQfe

— BCCI (@BCCI) August 7, 2018
Anushka was trolled after BCCI posted a picture of her posing with the entire Team India at the High Commission of India in London. The actress was mercilessly trolled on Twitter for being the "odd one out".
9- When Anusha Dandekar wore whatever the hell she wanted.
Anusha Dandekar shared a photo that has her posing topless with white bikini bottoms. Anusha captioned it, "Say what you need to, my reflection of me, I'm fine with… your words reflect what you see of yourself." While many lauded Anusha's bold avatar, some slammed her for destroying the culture.
10- When Disha Patani wore a sports bra with a lehenga.
After sharing her post-Diwali pic, Disha was brutally trolled for pairing a sports bra with a lehenga. People lashed out at her for disrespecting the Indian tradition.
11- When Esha Gupta posted a topless picture with just pomegranates.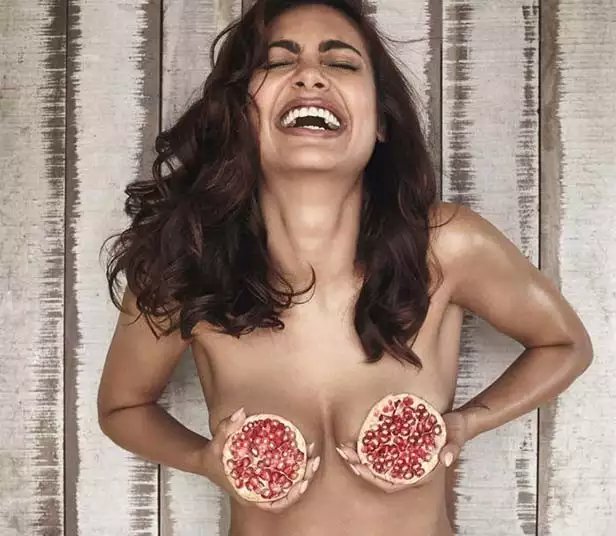 Esha Gupta always breaks the Internet with her bold pictures. But when she posted a topless picture of herself, a playful shot of her covering her assets with pomegranate, she got shamelessly trolled for being un-sanskaari and revealing too much.
12- When Aaliyah Kashyap was comfortable with her body and wore revealing attire.
Bollywood filmmaker Anurag Kashyap's daughter Aaliyah shared screenshots of rape threats she had been receiving, among other derogatory comments, after she shared a photograph in lingerie. People slut-shamed her and asked her to cover up.