Captain Cool Dhoni , who is an all-rounder and favorite of everyone has been in the hearts of his fans . Mahi has raised the standards of fitness and game in the world of cricket long time back. He lived his career with King's style and cool mind .
After his retirement from the Cricket , everyone must be thinking that what other sources does he have apart from all the endorsements .
Today , we have brought to you some of the source which makes Dhoni a powerful man as his gaming style ..
Let's have a look:
1. Mahi owns footwear brand Seven
Seven is a famous fitness and active lifestyle brand that targets free-spirited youth and lives by principle of revolutionizing the sports. When Seven was founded in February 2016, Dhoni was approached by the company to be the brand ambassador. Instead Dhoni came up with a better idea. He accepted the offer to be the company's brand ambassador and also owns the footwear side of the brand. Now, this is actually called a masterstroke.
2. Mahi Racing Team India
Mahi has a soft corner in his heart for bikes. And you can know this by seeing the insane bike collection over time. Not only this, Mahi's fondness for bikes leads him to own a racing team in the Supersport World Championship. However he shares the ownership withfamous actor Akkineni Nagarjuna but it is one of the great sources of income for Dhoni even after he has been degraded in the BCCI contract.
3. Hockey team Ranchi Rays
Dhoni loves sports and often eager enough to promote sports on his level. Despite he has investments in Cricket, Brands, Gyms, Football, and racing team, he also made his investment in the Ranchi-based Hockey club titled as Ranchi Rays. There is no denying that Dhoni is looking to grab each and every sports opportunity. And the range of sports varies from football to hockey.
4. Dhoni Entertainment
Mahendra Singh Dhoni entered the etntertainment business with a long-term partnership deal with production house Banijay Asia. Dhoni Entertainment debut it's journey with Roar of The Lion, documentary which released on Hotstar. Dhoni in an interview said, "After my biopic, I always wanted to do something in the entertainment space".
5. Chennaiyin FC
We all are aware of Mahi's love for football. Well he couldn't make a career in football but he is associated with it by owning a football team in the Indian Super League. Dhoni owns a part of Chennaiyin FC. The current Indian skipper Virat Kohli also has his stake in an Indian Super League team, the Goa FC.
6. SportsFit by MS Dhoni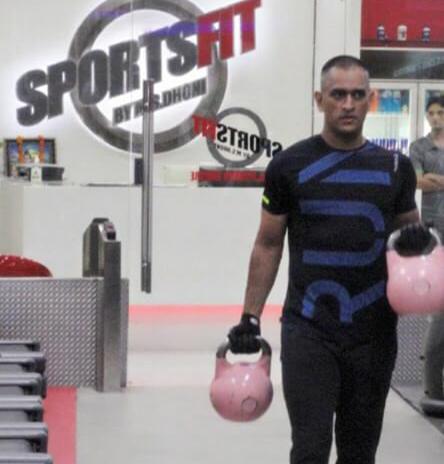 MS Dhoni is one of the fittest sportspersons around the globe. Everyone praises his speed in running between the wickets. This point leads to his love-affair with the gym. The interesting point is that Dhoni has invested in gyms as well. Mahi owns 200 gyms across the country under the name SportsFit World Pvt. Ltd. There's no point mourning over his degradation of BCCI contract.
7. Hotel Mahi Residency
The least famous venture of MS Dhoni is his hotel investments. He owns a hotel named Hotel Mahi Residency. This is a single hotel with a branch located in Jharkhand. The hotel doesn't have any franchises yet. Maybe in the future, Dhoni will crack out the fortune with this business as well.
8. Innumerable endorsements
Dhoni also has a large number of brand endorsements. The net worth of MS Dhoni is only scaling by the passing day and you can't even figure out his immense popularity in the ad-world. Dhoni has endorsed Star, GoDaddy, Snickers, Videocon, Orient Electric, NetMeds, Bose, Pepsi, Dream11 and the list is on and on.
The talented cricketer has all the luck with his hard-work , when it comes to business and sports ..