The most awaited news has finally turned into reality. Australia has been in this danger of the natural calamity since long .But finally got relief with the help of mother nature only.
These saviours have been working day and night for the rescue .Finally the dance of joy was on their mind which is a great one indeed.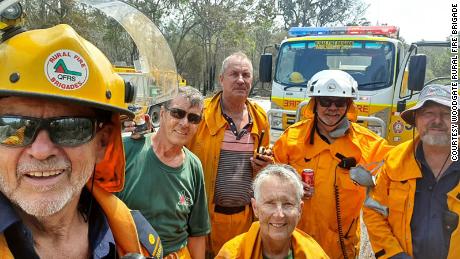 The Fire Brigade uploaded the video to social media, writing: "This is our crew in Rollands Plains in NSW at the moment with some very happy locals who have been on edge for over a month.
One of the local and other locals too helped a lot to these firefighters and also doing many other tasks like cooking meals for them .Its been around 15 days that they had a continuous bonding .This rain has healed the wounds of the victims indeed.
They are in the maximum excitement and relishing the happiness of the rain which has stopped the bush fire.
After the post was shared on the Facebook page ,it got viral within no time . Netizens shared the post with the happiness and joy and gave their remarks.
The post on the twitter was shared by the New South Wales Rural Fire Service : "Not exactly what we wanted to see. NSW has been hit by a number of storms this afternoon, with numerous lightning strikes recorded.
"Some areas also saw some rain others not as fortunate. More than 80 fires are burning across NSW, 50 are yet to be brought under control." was further added.
We wish a speedy recovery for all the damage caused due to the bushfire.