The legendary actor Amitabh Bachchan , has been ruling Bollywood industry on the basis of his hard work and talented acting skills . He is the inspiration of many and an icon too.
As we all know that lock-down is going due to Novel Coronavirus , it was seen on March 22nd , Sunday as the step was initiated by our PM Narendra Modi. Another thing happened , which everyone contributed to was , at 5 PM for 5 minutes . It went very well and all did pay a tribute to our brave people who are constantly practicing their work front .
Actor Amitabh Bachchan twitted about the applause giving his opinion , which he deleted later on.
Let's have a look at his tweet:
The actor wrote : "An opinion given: 5pm, 22nd March, "Amavasya," darkest day of month; virus, bacteria, evil force at max potential and power! Clapping, shankh vibrations reduce/destroy virus potency. Moon passing to new 'nakshatra' Revati. Cumulative vibration betters blood circulation."
He , later on had to face many hard words from netizens .
Let's have a look:
When the actor deleted his post , BJP leader Shaina NC also deleted a tweet about the virus-killing properties of sound.
Pratik Sinha, founder of fact-checking service Alt-News, urged that others circulating similar pieces of misinformation be held to account .
Apart from actor Amitabh Bachchan and Shaina NC, many more did posted the tweets misleading the facts .The forward has gone so viral that the Press Information Bureau's fact-checker posted an advisory: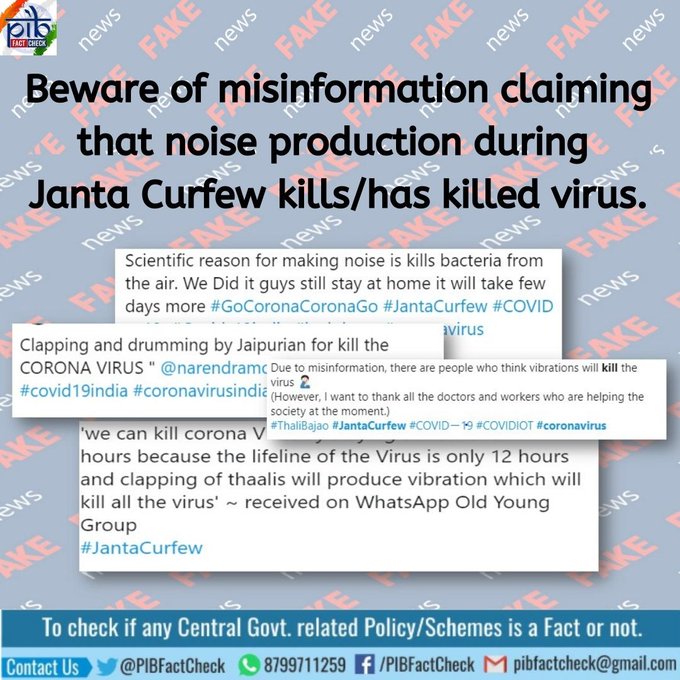 What are your views about the tweet ? Do mention in the comment section below.