The suprstar Deepika Padukone is ready for the upcoming release of the film Chhapaak . She has played a wonderful character , which is based on the true incident of an acid attack survivor Laxmi . The trailer has already bagged a lot of appreciation and people are just predicting it to be a national award nominee.
Recently , she did something unique which made her fans fallen for her once again .She posted a DPism video in which she was still in the character of the movie .She was having a conversation with the director Meghna Gulzar and where she ends the conversation with a wink .
She did it taking in consideration the South actress Priya Prakash Varrier.
Priya Prakash Varrier became an internet sensation ,after her video clip from the movie "Oru Adaar Love" got viral . she grabbed all the attention by her wink .
Let's see how DeePee did it :
When Priya Prakash Varrier saw this video, she was shocked. Priya then shared a photo with the caption, "Did the goddess herself wink???!!! No better way to end 2019 Fallen"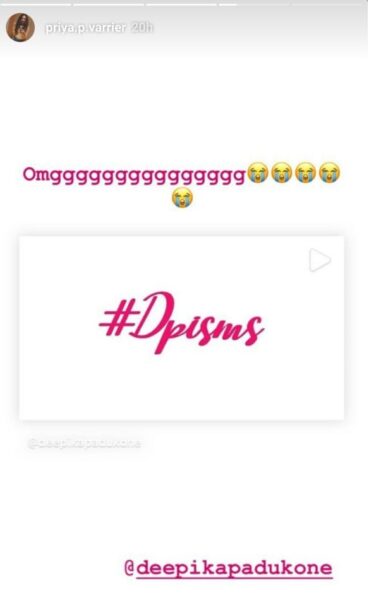 The video was posted on 28th December and Deepika just nailed it … She is a beauty with brains undoubtedly!!
What say guys ?? Feel free to share your thoughts..