In recent past , Mr. Anand Mahindra the chairman of the Mahindra group is a trendy name as he is always updated with one or the other hot topics to talk on social media .
Recently, a guy named Vipul had an unusual request to Mahindra Group Chairman Anand Mahindra.
The manner in which the chairman replied is just making netizens crazy ..
Vipul, posted on his twitter handle and said he is a big fan of Anand Mahindra and asked if he could gift him an SUV on his birthday. "Sir.. Big fan of yours. Can you gift me a Mahindra Thar on my bday…,"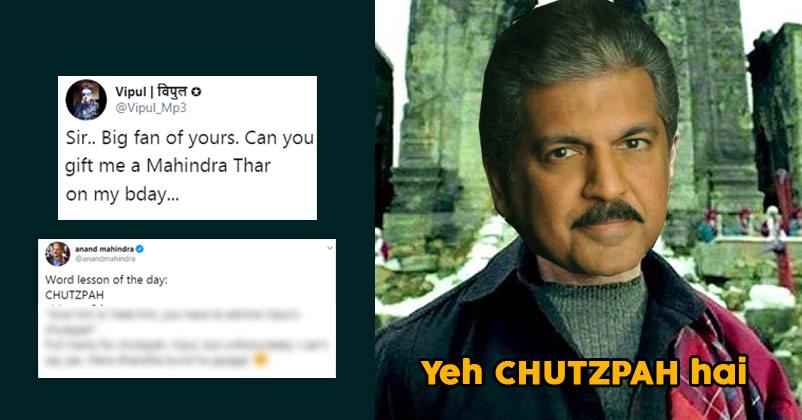 In response , the intelligent businessman explained the meaning of the word 'Chutzpah,' relating it to Vipul. He wrote, "Word lesson of the day: CHUTZPAH – noun: extreme self-confidence or audacity (usually used approvingly). "love him or hate him, you have to admire Vipul's chutzpah."
Giving Vipul a 10/10 for his CHUTZPAH , he further added
: "Full marks for chutzpah, Vipul, but unfortunately I can't say yes. Mera dhandha bund ho jayega!"
Let's have a look at the tweet :
After the tweet was posted , it got many responses as well.
The other one wrote : "But you can gift him a toy model," .
Noone can beat a businessman ? what say (wink)