As almost everyone is aware of the dangerous fire of the Australia's Eastern coast .It has effected the air, land ,humans and animals too.
Australia is popular for it's wild animals, which are suffering indeed.The bush fires have destroyed acres of land making the animals live in fear .
But as they say … there is always a savor to everyone ..Recently, due the havoc in the forest area ,a koala bear was severely effected but among all odds a woman turned out to be the guardian angel for the innocent creature.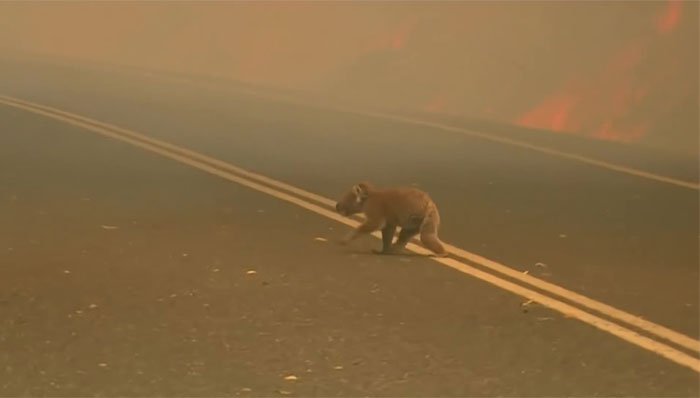 The woman named Toni Doherty helped the Koala escape the devastating fire by taking off her shirt, wrapping the koala in it and then pouring a bottle of water over it.
She says:
"He just went straight into the flames, and I just jumped out of the car and went straight to him."
The hospital which took care of that koala says:" This male koala who was so disorientated by the flames and unfortunately was burnt further as he headed back into active fire. He has been called Ellenborough Lewis (after her grandchild). He has been treated and is now in the five star accommodation at the Koala Hospital."
Netizens are appreciating this bravo act of the lady
The sad news is that ,till now over 350 Koalas have died in this bush fire which is heart breaking indeed.
Watch the video below: