School days are said to be the best days of childhood … and probably the true quote indeed. We also know that our teachers were so much dedicated and made us understand the chapters , which were important for us .
On this note , we share our today's story to you , where a teacher named Verónica Duque, 43YO teacher, who teaches anatomy in a school. She gave them a class of anatomy in a full body-suit which was mapping out the entire human body in detail.
Apparently, Verónica has been teaching for over 15 years and her subjects includes natural and social science, English and Spanish.
She is a creative teacher indeed , constantly looking for new ideas for making the studies more interesting .
She quoted that she was surfing the internet and then she found an ad on AliExpress of a swimsuit. To make it an ease for the kids , she bought the suit and gave it a try.
Her better half Michael shared some of the pictures on the tweeter handle . Post the picture got shared , it went viral within no time. She got over 65 thousand likes and thousand comments.
She said that she decided a long time back that she would use disguises for history lessons and she added that she was also using cardboard crowns for her students to learn grammatical categories such as nouns, adjectives, and verbs. She wants society to stop considering teachers to be crazy bureaucratic public servants because the teachers are not.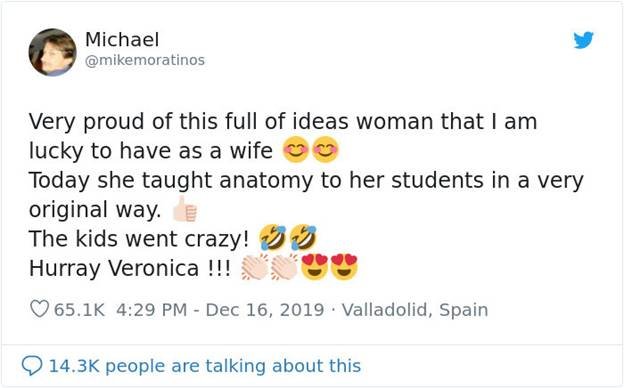 While looking at Verónica in that bodysuit, a few internet people commented that she was a Slim Goodbody. Well, for those who don't know, Slim Goodbody is one costumed character that was created by John Burstein and has been a champion in children's health for over forty years. At the moment, his productions are viewed by millions of children on the channel Discovery Education. The live show tour theaters around all the US, and is reaching a thousand children every year.
She got the word of appreciation from netizens . Let's see some:
She is a creative and dedicated teacher and we feel that her children would appreciate her for the same.