A 27-year-old MBA graduate from Cornell University, Shantanu Naidu is all lucky with hard-work hand in hand at a young age. Naidu over a year and a half ago bagged a position at India's leading industrialist Ratan Tata's office and he now assists the business tycoon in his startup investments and provides him with executive assistance.
"It is an honour and a once-in-a-lifetime opportunity to be working with Mr Tata. It is full of learning every minute, every day." Shantanu quoted.
RATAN TATA, is a keen investor in Indian startups and has a list of more than a dozen startups backed by him. The startups that succeed in getting the 81-year-old doyen of the Tata Group enjoy more than just the financial benefits.
Naidu shared that he is in touch with all the latest trends in technology which gives him only a little opportunity to show him something new as he already has seen everything. He further added that he does add his millennial perspectives on a lot of things that Mr. Tata appreciates and praised the relationship and the man by calling him "a fine businessperson, a refined gentleman and empathetic individual."
Shantanu is a real dog loverand he was working as an automobile design engineer at Tata Elxsi in Pune he often came across dogs on the road that had been run over by speeding vehicles which made him wonder how he could help save the lives of these dogs.
After talking to many people who had been in road accidents involving dogs he realised the issue was of visibility in the dark and hence ended up making collars for dogs which would make the dogs visible in the night even without streetlights.After many trials, he finally succeeded in making the collars and initiated a campaign called Motopaws which was then written about in the Tata Group of Companies newsletter and came to the notice of Mr. Tata.
Shantanu also shared that he was told by his friends and family to write to Mr. Tata knowing that he was himself a dog lover and so he did but got no reply for a long time until one day he was finally invited to meet him at his office in Mumbai where the businessman expresses a lot of love for what they were doing for street dogs and asked him how he could support. He later made an investment in the endeavor.
Motopaws was funded not from any investment engine, but from Ratan Tata's own pocket owing to his love for dogs and the innovative concept of saving their lives from speeding vehicles. It has now been sailed up to 11 cities in India are now looking to explore with big animals . They are also receiving a lot of requests from countries like Nepal and Malaysia.
They manufacture 500-1500 collars in a month and keep evolving the designs as per the credible feedbacks received.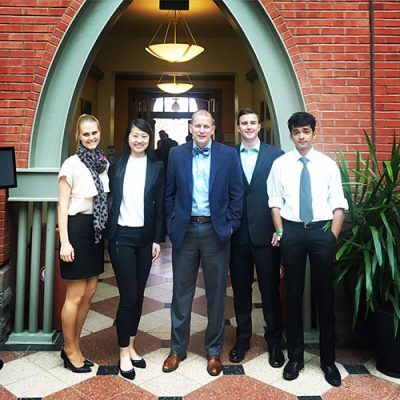 Naidu shared that he is the fifth generation working with the Tata Group and while everybody worked as engineers and technicians for the company, he is the first to grab the opportunity to work as an executive and also meet someone from the family of Tata in person.
He also shared that after the investment he continued to stay in touch with Mr. Tata and often spoke to him about different topics and issues. Also, he shared the news of leaving for MBA at Cornell with him and later informed him about his return after his graduation and expressed his wish to contribute to the Tata Trusts.
Post returning with his degree it was assumed that Naidu would work on the same veterinary project. Nonetheless Tata had some other plans for him. Fortunately, he was asked to join his office in 2018 and as they say .. Rest is History…