When almost all the cities and metropolitans are effected by the Coronavirus . The government has shut down all places of public gatherings like malls, theatres and gyms in Mumbai. Several offices have asked employees to work from home, while all schools and colleges have been shut down. Bollywood has also taken a hit due to this global pandemic, with over shoots being halted and release dates of films being pushed. In such times where the only way to stop the spread of coronavirus is by staying at home .
If we talk about celebs in particular, they are staying and spending time at home .
Let's see the routine of some of the celebs in this scenario :
1. Akshay Kumar – Spending quality time with partner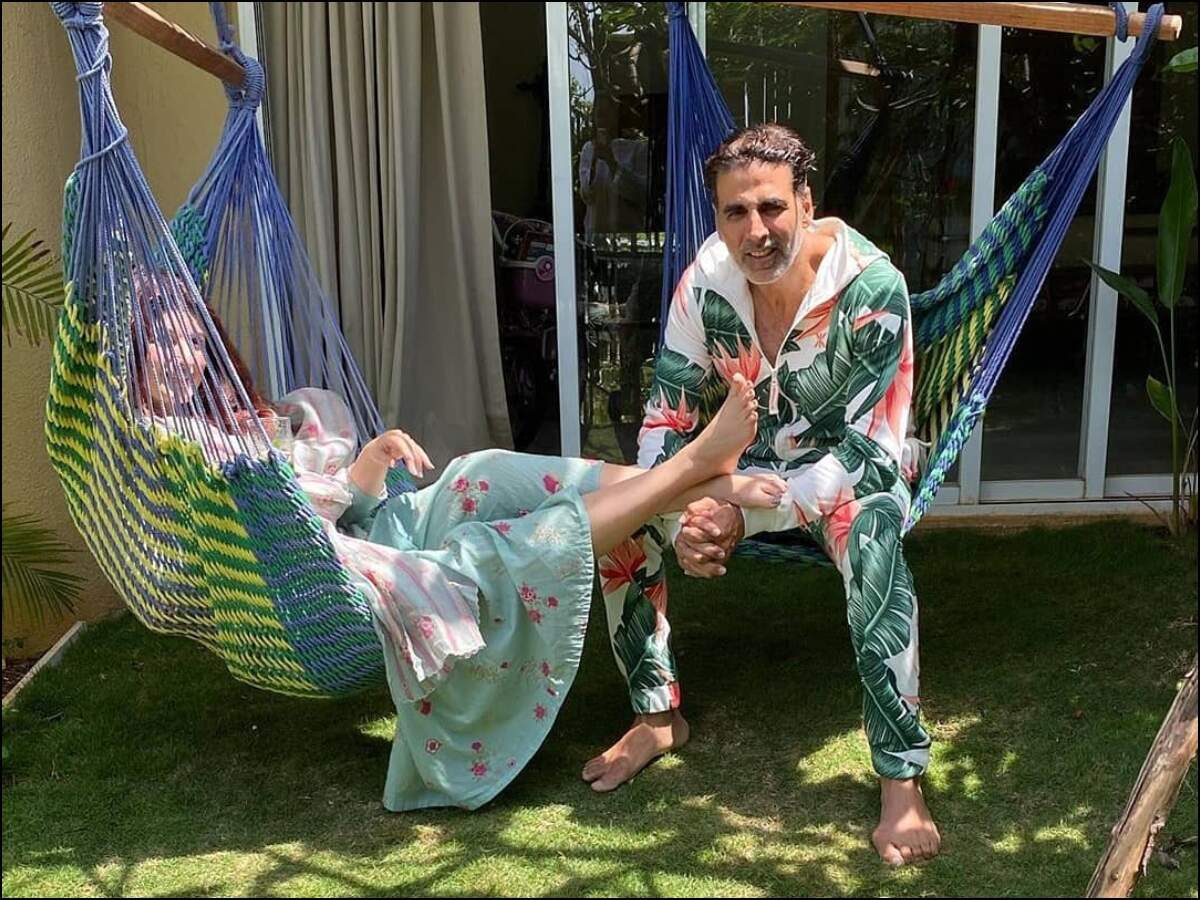 When Akshay Kumar has ample of movies to do , he barely gets time to spend with family . Due to the present scenario , he is getting quality time with family. Actress-turned-author wife, Twinkle Khanna posted a story that saw the couple kicking it back on a couple of hammocks with warm teas in their hands.
2. Katrina Kaif – More focused on Workout from home.
The fit and flexible , gorgeous Katrina Kaif recently did the action-packed movie Sooryavanshi and the release date has been pushed back for the same . So now Katrina is seen with her trainer and guide Yasmin Karachiwala , doing some workout at home and for which she also posted a video on her Instagram account.
3. MS Dhoni – Spending time with the furries
The much-awaited Indian Premier League, which was set to kick off this month, has been pushed to April 15, 2020. Even MS Dhoni's team, Chennai Super Kings had their practice sessions suspended due to the same reasons. This meant that Captain Cool returned to his hometown, Ranchi and has been self-quarantining himself since. His wife, Sakshi, put out some Instagram stories that showed his infamous Hellcat parked in the wrong spot. While Dhoni, on the other hand, was seen petting his pet dog while watching some TV.
4. Saif Ali Khan – Catching up on some reading and Kareena Kapoor khan Instagramming
Kareena Kapoor Khan made her Instagram debut earlier this month. Ever since, the actress has been giving her followers a glimpse into her royal life. Her most recent post was that of her husband Saif, sitting in their cozy study, as he was reading a book. Now , since she can't step out and promote her upcoming film, Angrezi Medium, she's taking the millennial route and spending her self-quarantine time Instagramming.
5. Jacqueline Fernandez – concentration on breathing
One of the fittest actress Jacquiline just loves her pilates and yoga . Those who do not know , she is a vegan and promotes brands that stand against animal cruelty. And so, Jacqueline has been taking some quality time to strengthen her spine, do some yoga, listen to some good music and just breathe clean air.
6. Varun Dhawan – Catching up with fans
Varun Dhawan and Sara Ali Khan have been working on their upcoming film "Coolie no 1 " . Since things got serious in India, he also became one of the Indian celebrities to take to his social media and convey to his fans that the best practice right now is to stay at home and maintain hygiene. On Tuesday morning, Varun went live on Instagram, taking up questions from his fans and interacted with them to provide some wholesome entertainment. His #AMA (ask me anything) goes trendy.
7. Deepika Padukone – Cleaning out her closet
With one of the best films of her career film Chhapaak, Deepika is much more loved by her fans . She recently posted to the social media seen clearing and setting up her closet.
8 . Kartik Aaryan – Playing Jenga
One of the happening star celeb Kartik Aryan is actually a self made one . With his skilled performances in various films , he has made everyone fall in love with him . The Love Ajkal 2 actor has been taking time to keep his mind occupied by playing games like Jenga with his friends. Looking at the images, it seems like the actor was concentrating hard on not letting his deck fall apart.
9. Arjun Kapoor – Watching movies on BlueRay
With his upcoming film 'FARRAR' with Parineeti Chopra in the opposite lead , the promotion of the film is still left for the release of the movie . Arjun Kapoor is sticking to his millennial roots and making the most of all this free time by watching a whole array of films on BlueRay , in his leisure time .
10. Priyanka Chopra – Cuddling with her pets
The popular Peecee , who is always busy in her National and Inter-National events is resting at home for a while . The reason is the same COVID . Our Desi Girl is seen cuddling her doggy Gino in her free time and making it feel special.