It is said that animals remember the one who help them . They find a way to meet them and return by their side .
Today , we share one of the amazing story that is heart-melting indeed. The story of a penguin Dindim , who travels to 8000 Km just to meet his rescuer .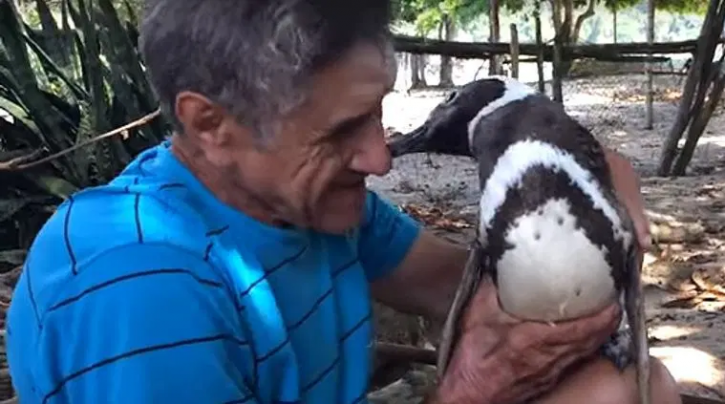 The incident happened in this way : 71-year-old Joao Pereira de Souza ,who is a retired bricklayer and part-time fisherman ,living on an island off the coast of Rio de Janeiro, Brazil.
Dindim was in a very bad situation when D'Souza found him. He was covered with oil with the tarred feathers. This happened in the year 2011. So he took good care of him and feed him the fishes till he was healthy .
he took Dindim to the sea to release him, so that he could migrate. "But he wouldn't leave. He stayed with me for 11 months and then just after he changed his coat with new feathers, he disappeared," Pereira de Souza told Globo TV. "Everyone said he wouldn't return but he has been coming back to visit me for the past four years. He arrives in June and leaves to go home in February" .
South American Magellanic penguins breed in the Patagonia coasts of Argentina and Chile which is 4,000-8,000 km away.
Joao Paulo Krajewski, who is a famous biologist told the reporter who interviewed Pereira de Souza for Globo TV said, "Professionals who work with animals try to avoid relationships like this occurring so they are able to reintroduce the animal into the wild. But in this isolated case the authorities allowed Dindim to stay with Joao because of his kindness."
He further added, "I have never seen anything like this before. I think the penguin believes Joao is part of his family and probably a penguin as well. When he sees him he wags his tail like a dog and honks with delight." Indeed, Pereira de Souza said, "No one else is allowed to touch him. He pecks them if they do. He lays on my lap, lets me give him showers, allows me to feed him sardines and to pick him up."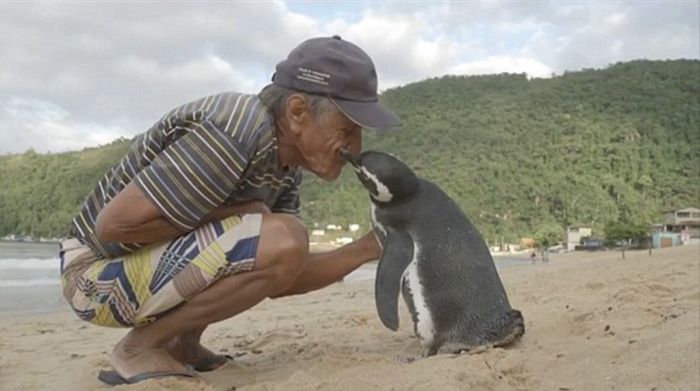 It's a hats-off to the little fellow who is so much in love with his saviour. They share a special bonding indeed.