When we talk about the luxurious bungalows of our favourite Bollywood celebs , everyone must be curious to know the inside of the property. They must be luxurious with a grand decor . But have you ever thought that what about the personal property in they spend their maximum time , when they are on shoots for long hours ?
Today , we are talking about their luxury on wheels, yes the vanity van they own and the inside pictures of the same are actually jaw dropping .
Let's have a look at the vanity vans of some of the popular B-Town celebs:
# 1 ShahRukh Khan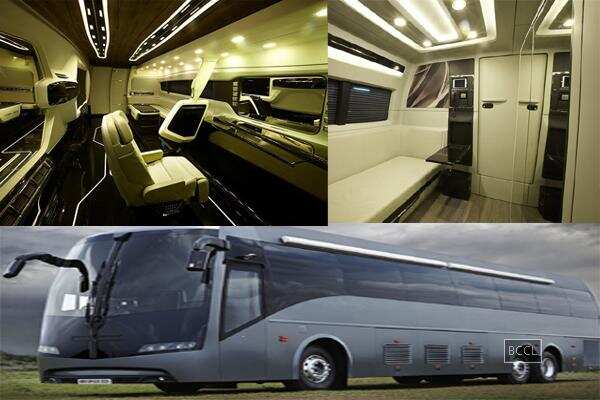 The romance king of Bollywood Shahrukh is also a brand Ambassador for Hyundai. He is seen in the campaigns for the Santro and more recently the Xcent .His vanity van is a Volvo BR9 modified by DC, which has a luxurious and comfy recliner, fine touches like a kitchenette, ambient lighting inspired by the movie Tron, a high-end music system, Apple TV and multiple 4k displays.
# 2 Akshay Kumar
Khiladi Kumar prefers comfort over the stylish ambiance . The vanity consists of a comfortable recliner , a makeup room and a spacious bedroom .
# 3 Alia Bhatt
The vanity van of Alia is very much vibrant and lively as she is . Her vanity has graffiti everywhere. It comprises of a bedroom, bathroom and a makeup room. The colourful decor gives a positive and trendy ambiance.
# 4 Salman Khan
Super star Salman Khan has a DC-customized vanity van. The vanity has all the mesmerized looks and the leather furnishing with a great contrast of the lighting and interiors. A major section of the van is occupied by a spacious meeting room, which has a door from where his cars — can come in and out with the help of a portable ramp.
# 5 Ranbir Kapoor
The chocolate boy Ranbir Kapoor , is a cool one , when it comes to his choices, which is reflected in his modern style of vanity too. The interiors of his vanity van are done up in bright colours and include a bedroom, makeup room and an amazing music system.
# 6 Hrithik Roshan
One of the fittest and flexible actor Hrithik Roshan , is a heart-throb of many . If we talk about the vanity of this actor , it's as stylish and desired , as he himself . His large and luxurious 12-metre long van includes a lounge with four individual captain seats and a large TV and also features a Jacuzzi.
# 7 Sonam Kapoor
The actress known for her style statement , Sonam Kapoor has a vanity van with all the modern and luxurious features . It has a bedroom, a mini-makeup room, a large seating space , which is well designed .
# 8 Varun Dhawan
The youth icon , actor Varun Dhawan has vanity van more of look of a house . It has all the essential things with the modern design which seems that he has a SWAG even in the choice of vanity.
# 9 Sanjay Dutt
The star celeb Sanjay Dutt has one of the advanced vanity van. It's a type of single-axle Volvo bus. It has all the luxurious interiors and the the exterior looks like a luxury coach. The van has neon lighting and the fittings are made up of leather . It has all the comfort like : LED , a mini bar and an electrically controlled captain's seat.
# 10 Ajay Devgn
The action hero of Bollywood industry , Ajay Devgn has one of the most stylish vanity van . No doubts , he is a popular actor to have that stylish fleet of cars too . If we talk about the various sections of the van , it has kitchenette, office space, a bathroom, and a bedroom.